SMS delivery
for your customers




Resale platform SMS messages via web

Offer him your customers a panel from which you can send SMS via web

With WebSMS Reseller, you have the ability to create accounts for your customers, assign credit, private access them from where they can send their SMS messages directly with many tools that facilitate these tasks using templates, groups on its agenda and scheduled shipments. Your customers will see your logo and never know that this service is Cyberneticos . Your customers will see their company logo. You will have total control over all customer accounts.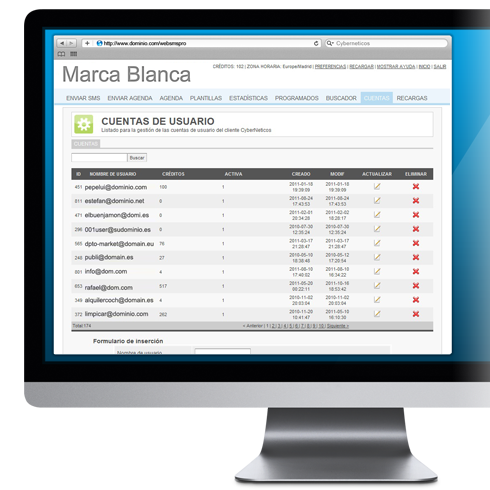 Control Panel
White brand

Customize your control panel and its customers with your company logo
Create your
own users

Manage your own users and credits from a centralized panel.
Each client with its own private panel

Your customers will have access to their own private panel to manage your shipments, templates and contacts.
full reports
shipping and receiving

All customers have strict control over each sending and receiving SMS.
WebSMS Reseller includes tools that facilitate handling everyday tasks.
A panel all-in-one with which you can perform any operation handling SMS and keep track of your contacts, templates text, calendar, scheduled shipments and even a search of messages sent in our history SMS messages.

for those customers who need to incorporate a system of your software sends SMS, WebSMS Reseller comes equipped with a connection system API already included in the package.
Tools included in all panels of its customers:
shipments SMS

Send SMS via web from a Control Panel Powerful and Intuitive.
This ensures the correct operation of all scripts or programs you install on your own.
SMS delivery to the agenda

Send SMS to User Groups or your Diary.
This ensures the correct operation of all scripts or programs you install on your own.
Diary

Powerful agenda Contact Groups.
The agenda included in Reseller WebSMS lets you manage all your contacts from a single screen, organize contacts in groups without limit contact group and unlimited groups you can create. With WebSMS Reseller you can import all your contacts via a CSV file.
Templates

Word templates for Mass Mailer.
We know how tedious it is to have to always write the same text over and over again with each shipment to different contacts. So we've built a system where you can create your own templates text, and shipments from these templates. You can create as many templates as you want.
Template variables

Make bulk shipments of custom SMS with the name of the recipients.
To send mass SMS templates, using variables or wildcards, you can use the names of existing contacts in the phonebook. Thus, it will send the same message body to all recipients, but with the contact name or group of the recipient. So you get a personalized and professional shipping in text messages.
Search messages

Sent in search History.
Have you ever had to give your customer a receipt of SMS? Or you'll remember if you sent an SMS to someone? Our search engine for SMS messages sent lets you search thoroughly among all SMS sent. You can search by phone, date and text sent.
Statistics

Complete with Graphics Performance Statistics.
There is nothing better than a graph to analyze any aspect of the use and progress of their shipments. We provide it with various graphics, with a glance, you can easily see the amount of SMS sent and a record of progress of shipments. See examples on the right.
scheduled shipments

Programmable SMS delivery.
Another feature that makes WebSMS Reseller is one of the most powerful solutions available in the market for shipments SMS is the ability to schedule deliveries at the time and date you want. There is no limit programmable SMS. You can check at any time and scheduled SMS and envoys were scheduled. See an example of a scheduled SMS right.
Reseller Web SMS rates
Choose your rate and charge when you need it
We also have packages from 10,000 to more than 1,000,000 SMS SMS. Ask about our packages SMS bulk shipments.

Contact us to ensure the best national and international rates. The larger your reloads, comes out cheaper sending each SMS. There is no limit refills you can perform on your own.
10,00€
112 sms


(0,090€/sms)

HIGH SERVICE: Free
API: included
20,00€
236 sms


(0,085€/sms)

HIGH SERVICE: Free
API: included
50,00€
626 sms


(0,080€/sms)

HIGH SERVICE: Free
API: included
99,00€
1415 sms


(0,070€/sms)

HIGH SERVICE: Free
API: included
249,00€
3609 sms


(0,069€/sms)

HIGH SERVICE: Free
API: included
499,00€
7339 sms


(0,068€/sms)

HIGH SERVICE: Free
API: included
670,00€
10000 sms


(0,067€/sms)

HIGH SERVICE: Free
API: included
To recharge more than 1000.00€ consult us
Screenshots
WebSMS Reseller
Discover the features and functions
Reseller through main WebSMS
of the following screenshots.
Click on pictures to enlarge.
FAQ | Frequent questions
Can I recharge more than 1000 € in credits?

Yes. Simply contact us to create the best possible offer. largest While recharging are more aggressive discounts SMS.
What is the difference between SMS Reseller Web applications and Cibermovil?

WebSMS Reseller It is a professional mass SMS system shipments. You can send multiple SMS contacts or groups simultaneously of its agenda and use message templates to facilitate repetitive mass mailings.
Can I have an API to connect my applications WebSMS Reseller?

And it is. You can download the full API and examples made in several language codes from our download area.
35% discount on TemplateMonster with new high in Cyberneticos