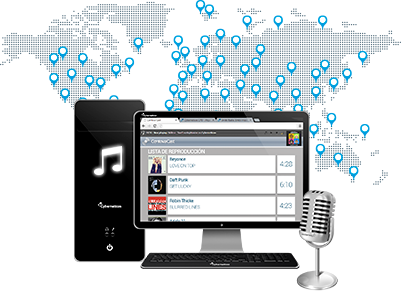 Radio Stations
Broadcast live 24 hours online
Centova Cast is the ultimate control panel for managing internet radio stations
Allows you to broadcast from your PC live 24 hours. Play your playlists with AutoDJ, included in all plans. With Centova Cast you will have complete histories, statistics and geographical location of your listeners in real time.
Up to 100 simultaneous listeners
Our radio broadcasters support up to 100 connected, silmultaneous listeners.
Centova Cast Web Control Panel
Centova Cast has a multitude of functions and tools to manage your station from a web browser.
15 Day Warranty
Cyberneticos guarantees 15 days of testing on Streaming Servers and other services.
24 Hour Support
Our team will answer you 24 hours a day, 365 days a year to resolve any doubts and incidents you may have with your station.
Centova Cast, the Professional Emission Control Panel
Control and manage your radio station through Centova Cast
This panel has many functions to manage your station from your browser anywhere with internet connection such as start, stop, configure, change key, broadcast text and dozens of other settings and functions. Here is the full functionality of this panel for your internet radio station.
Statistics and full history of listeners
Centova Cast has a section from where you can graphically display the statistics of the listeners, to know at all times the audience you have or have had. History lets you view statistics for any time, day, week, or month of the year. You can even view the entire year history. The graphs show how many listeners there were for a certain hour throughout the day. With graphics that are easy to read and understand so you know precisely what the most important hours of your program are.
Play from any audio player
Its control panel will provide you with listening links for the 4 most common players: Windows Media Player, Winamp, iTunes and Real Player. The Centova Cast panel even has a section where you can copy and paste HTML codes on your web page and have buttons ready for your listeners to hear your station directly from your website.
Delayed content and streaming of recorded sessions
Centova Cast provides you with a section from which you can upload any file to be heard in streaming and deferred format at any time. The free web page that comes included in your panel, also has a section created where your deferred broadcast files will appear.
Customized website for your station
Customized web pages have list buttons, playlist, delayed content and even a section from where your listeners can make song requests. By registering we provide you with a link to this web page with which you can link from any other website, or even create a domain for your station and use this page as the main page.
Programmable Playlists (Advanced AutoDJ)
The AutoDJ panel has a playlist management zone, where you can create all the lists you want, sort them and program them for automatic playback at any time. In addition has several playback modes already created, so that with just a few clicks have lists with a smooth, intense or intervals and repetitions, with different weights so that it can give more or less importance to a song, so that it reproduces With a variable frequency and configurable from its panel of transmitter. All playlist management is done with AJAX technology, rich in graphics and easy to use, dragging songs and creating lists in minutes. The tracks can be uploaded using an FTP account that is created automatically when you register.
Codes ready to use on your web
The control panel of your station has a section with a multitude of codes already customized for your station. Just copy and paste the code on your website. In addition, this section includes codes for viewing a Summary of Emission Status, Emission Details, Deferred Content, Recent Tracks, Song Requests and even a form from where your listeners can request songs and dedications.
Traditional Shoutcast Administration Available
For those who have used the Shoutcast page before, and so would like to take advantage of the resources it offers (see listeners IP, ban listener, expel broadcast source, etc ...). Cybernetics maintains this page activated. Even from the Centova Cast control panel you can configure the admin key of the Shoutcast panel.