SSL Certificates
Secure your website transactions

Put an HTTPS on the web
SSL Certificates are required for e-commerce and
websites where personal data or bank accounts are filled.
Secure Transactions
of your website under HTTPS
Offer security
to his clients
Improve positioning
of your website
SSL certificates available
(1) The information is indicative and not binding, for more details contact our Dpt. Commercial.
(2) There is a prior process for validating the identity, registration and postal address of the organization, as well as the authorized contact person and their position within the organization itself. Once this step is completed, the domain validation will proceed.
(3) Once the corresponding validation processes have been completed.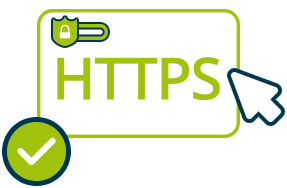 All our Certificates have:
Free installation.
HTTPS with private_html.
256 bits of encryption and Certificate 2048-bit Industry Standard.
Compatibility with 99% of browsers.
Instant Delivery
SSL Certificates have a 24-hour period. Except for SSL Certificates EV they require a more secure and exhaustive validation process, so their delivery is later.
Secure transactions under 256-bit encryption
With Cyberneticos SSL Certificates you can encrypt the operations and data transactions of your customers and business partners. The information will be confidential at all times during the transactions.

These SSL Certificates allow encryption from 40 to 256 bits depending on the capabilities of the client browser and the set of encryption installed on your Web server.

Show security of your site with the seal credentials.

By means of a line of code that we will facilitate you and you will have to install in your web, you will be able to show a seal with the logo of credentials. Demonstrating to users that their domain has been verified and that their information is encrypted during transmission.