Dedicated servers
Power, stability, flexibility, performance and security
With our dedicated servers offer performance and safety. These servers are not shared with any other user or company. Thus, the server is unique for you, without sharing disk space, RAM, processor, connection or other resource.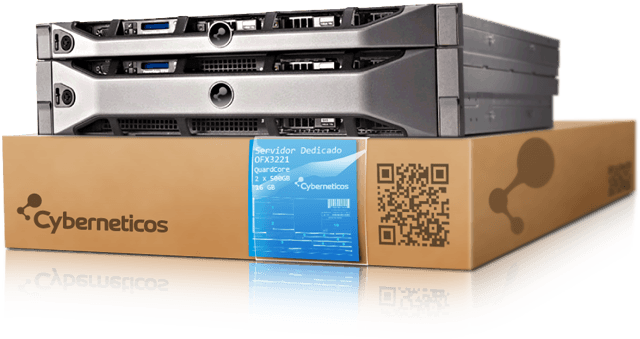 Warranty
With satisfaction guarantee 15 days you can test your server without any commitment.
Discount
Contact us to receive a discount for annual recruitment
ROOT access
By hiring the server will get
ROOT access if desired
Dedicated Servers currently available
Dedicated server

[ REF OFX184 ]

Intel(R) Xeon(R) CPU E-2186G 3.80GHz (6 cores)

16 GB RAM Memory

2 x 1 TB HDD Raid Software

4 TB Monthly Traffic

1 Gbps Full-Duplex
Bandwidth

Location: Netherlands

From...

109€/mo
Dedicated server

[ REF OFX220 ]

Intel(R) Xeon(R) CPU X3440 2.53GHz (4 cores)

8 GB RAM Memory

2 x 500 GB HDD Raid Software

4 TB Monthly Traffic

1 Gbps Full-Duplex
Bandwidth

Location: Netherlands

From...

99€/mo

Managed servers
for Cyberneticos
Trust us
Service Request Management
with DirectAdmin control panel
Request Management service so you can enjoy all the advantages of our guaranteed support of Cyberneticos. With which you can count on 24 hours a day, 365 days a year. Our technicians shall solve any incidents that may occur with your Dedicated server.
Maintenance
Your Server optimized and updated
by technicians Cyberneticos
The Cyberneticos technicians are always outstanding performance of your server, handling all technical issues and maintenance updates with new control panel, operating system and any critical application for secure and optimized this operation.
Full service
It includes:
Administration 100%
DirectAdmin control panel
Installatron
Skin CyberAdmin
Technical support 24 hours
Everything for
30,00€/mo
additional
Scalable servers
IP Spanish and SLA Administration
Our versatile scalable servers offer high performance optical connectivity,
They are fully configurable on demand, enabling increase or decrease its resources as needed.

Manage Your Server with DirectAdmin and CyberAdmin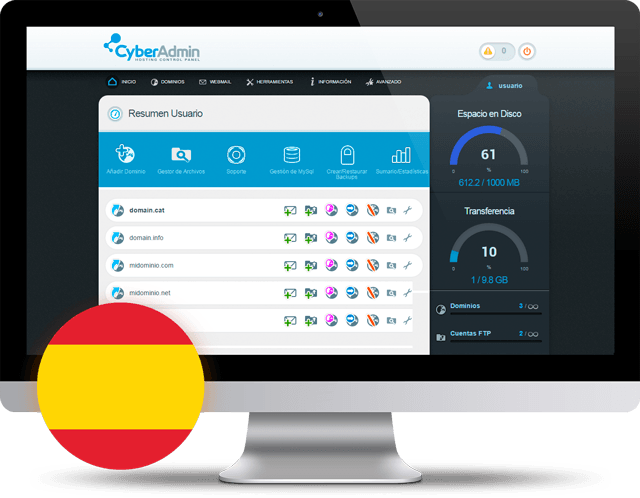 Demo Online Admin
User: demo_admin
Key: demo
DirectAdmin
Control Panel multidomain hosting
Equip your Server with the DirectAdmin control panel, the control panel hosting more advanced, stable and secure market multidomain. With the you can create users, hosting plans, in addition to hundreds of available tools and functions.
More information
CyberAdmin
Easily manage your control panel
When managing DirectAdmin, it will comfortably thanks to CyberAdmin Skin developed by the team Cyberneticos. Skin that provides a flow of unprecedented intuitive and organized labor.
More information
Dedicated servers that appear on this page are delivered no control panel and unmanaged . To add a control panel and / or choose a particular operating system, you may have a charge .

Physically our dedicated servers are located in the data center Evoswitch located in Haarlem, Netherlands. If you need a Server in our CPD of Spain we recommend hiring a Scalable Server .

The list of servers that appears on this page is updated every 24 hours approximately , so perhaps the Server in which you are interested is not available, however our team will try to find a Server with similar features and price.

Do not hesitate to contact us for further information or to make hiring. You can also contact by email indicating the reference code Server on which you are interested and our Department. Commercial will respond as soon as possible.
FAQ | Frequently Asked Questions Dedicated servers
When I can have my Server once the purchase?

All servers are delivered between 24 and 48 working hours from the time making the payment. Servers normally deliver within 24 hours. If you need your Server urgently, please contact us to make your order as urgent and will deliver its Server in the shortest possible time without any additional cost.

Will I have access ROOT my Server?

Yes. Only you can access your Dedicated server using your username and password ROOT your Server. The Server is delivered with a new copy of the operating system you selected newly installed and your access data. From this moment, you are responsible for managing your Server.

Can I use my Server for streaming, storage and similar applications?

Yes. We recommend you consider the bandwidth and monthly traffic consume plans when choosing your Dedicated server unmanaged.
What does unmanaged?

It is important to know the meaning of a Server "unmanaged". It represents that only you can access your Server and therefore only you can manage it. Cyberneticos at any time access the Server. In case you need help solving a problem that has caused, it is billed depending on the complexity of the assistance you need. These servers are designed so that only you give, the only responsible for what you install on it and the problems you may have with the operating system and applications to install. Cyberneticos only limited to replacing any peripheral hardware if it fails. You will also be solely responsible to make their own backups. For more information see Article 4.2 of the general contract.

I can use my Dedicated server to virtualize?

Yes. These servers come with the operating system you choose and are not delivered with any virtualization layer giving complete freedom to install whatever you need.
Please, if you still have any doubt
contact our Sales Department.