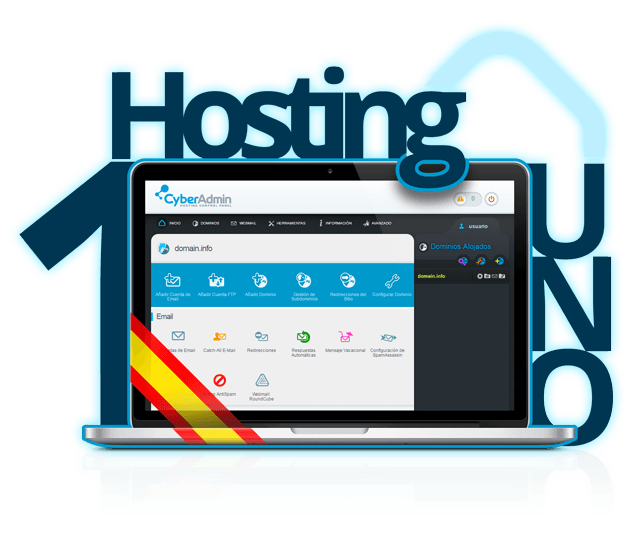 Hosting ONE
The final plan for your web
for one euro per month
Hosting ONE plan is all in one with all the tools and programs that go You need to manage your web. Hosting ONE plan features 1 GB of space, database, FTP account, email account, IMAP, POP3, Webmail and many more options with warranty, support and quality of Cyberneticos recognized worldwide.
Hosting ONE plan is administered
with DirectAdmin, web control panel in Spanish
Hosting ONE plan has all the features of DirectAdmin.
Which offers many tools necessary for a webmaster.
FTP account
You have an FTP account to upload your files from your favorite FTP manager.
An email account
ONE With Hosting you can create an email account and configure your mailer in addition to access it through WebMail.
A database
You will have a database to create and configure it for your web project.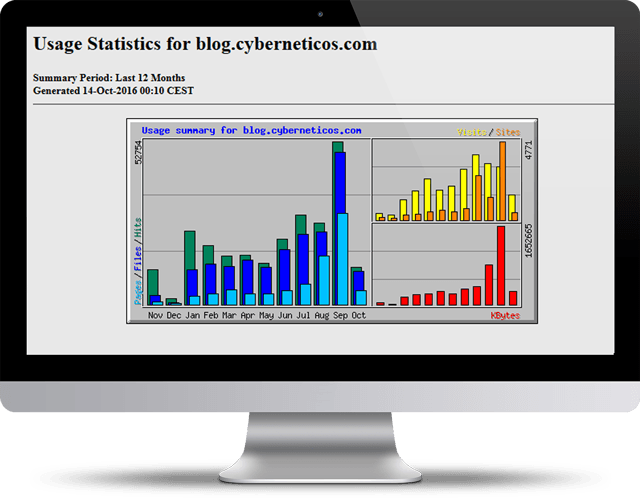 web Statistics
Through detailed statistics and graphs will learn among other features, the number of visits and the duration of these to your website. Access this feature from DirectAdmin
More information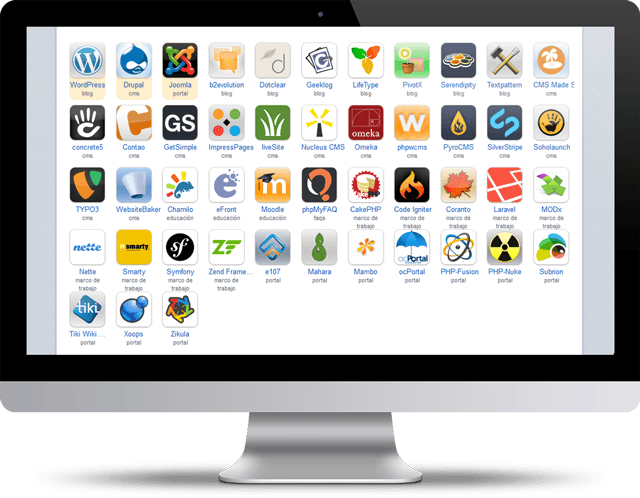 Installatron
Hosting ONE plan has Installatron, which has more than 150 programs already included and ready to install in less than 5 minutes.
More information
Hosting ONE Plan Cyberneticos
Hosting ONE
1GB Disk Space
1GB Monthly transfer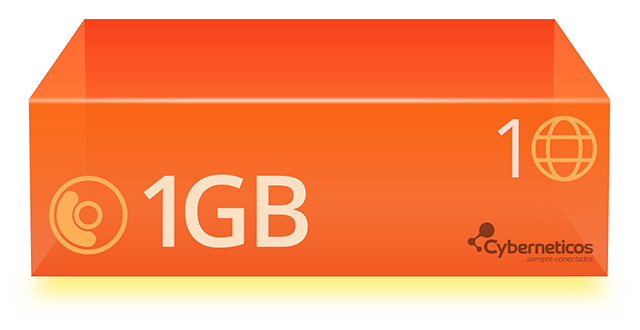 A hosted domain
A Mail Accounts
A Database
An FTP Accounts
DirectAdmin Control Panel
Statistics AWStats Webalizer
POP3, IMAP and Webmail
Installatron
AntiSpam and Firewall
PHP, Apache and MySQL included
WebGuardian
Tech Support 24 hours
Cybermóvil PRO
Satisfaction guarantee 15 days
IP Spanish
Manage Your Hosting DirectAdmin + ONE with CyberAdmin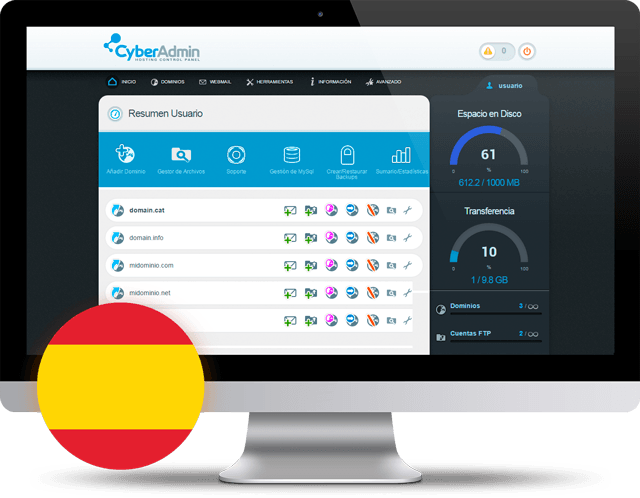 Demo Online User
User: demo_user
Clave: demo
DirectAdmin
Control Panel
Web in Spanish
DirectAdmin is a panel advanced, stable and secure control. You can control with your Hosting ONE, as well as your email account, database, backup, FTP account and redirections among other advanced tools.
More information
CyberAdmin
Avanzado Skin
para DirectAdmin
With CyberAdmin, you can easily manage your hosting control panel. CyberAdmin entirely developed by the team Cyberneticos gives the panel DirectAdmin flow intuitive and organized.
More information
Technologies included in the Hosting Plan UNO
WebMail
Hosting ONE has the email settings POP3, IMAP and WebMail.
More information
PHP
The PHP version used is always the latest stable version. Ensuring the functioning of scripts and programs used on your website.
Apache
Last stable version of Apache installed on our servers, also increasing as safely as possible.
MySQL
The database is the latest stable version. We include several modules by default, but if you need any special install it.
AntiSpam
Configure your anti-spam rules. Our web servers also combat Spam RBL lists in real time.
Firewall
Hosting plans ONE brings firewall installed and enabled. If you require any special configuration, contact us to request.
FAQ | Frequently Asked Questions Hosting ONE
When will I have my plan Hosting ONE?

After making the payment. You will receive an email with the access data to the control panel and can enjoy your Hosting Plan.

Can I install Wordpress, Prestashop Hosting and other applications in ONE?

If a hosting account ONE offer the same performance as Multidominio Hosting account.

How many domains can be hosted on my hosting account?

ONE Hosting plan only stays a domain, if you need to host more than one, will have to hire a hosting account Multidominio

How many email accounts can I create?

With ONE Hosting plan you may only create an account, if you want more, you have the opzión to expand to a Hosting Multidominio.

Can I access my email from the browser?

Yes, you can access your email from any device with an Internet connection via the browser and WebMail system..
What if occupy all my disk space hosting plan?

In the event that the disk space of your hosting account is complete, you will have to make a release of space or hire a superior plan. This change of plan is instant, just have to make the extension from the customer area.

Do Installatron applications are free?

Yes, you have more than 150 free applications ready to use. In less than 5 minutes you can have installed on your hosting plan from Wordpress, Prestashop, Drupal, Magento, Joomla, etc. Nor will limit installations and can install as many web applications as you need for your project.

Have of my total contracted space?

If, when hosting plans, you will have all contracted his plan space.

How backups work?

You can make backups of your hosting plan manually from your panel DirectAdmin control. If you have installed an application from Installatron, you can configure from the copies of your website automatically. Or you can hire CyberBackup Pro Hosting, which automatically and unused disk space of your hosting plan, will perform full backups of your hosting account..
Please, if you still have any doubt
contact our Sales Department.