Installatron
Over 145 programs and scripts ready to install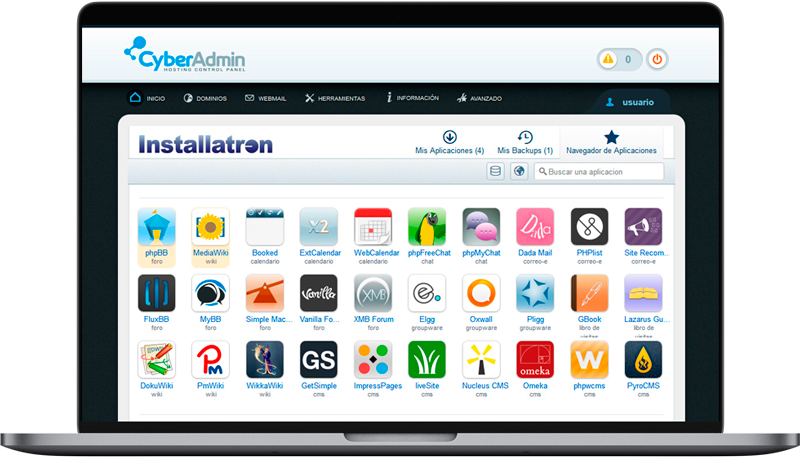 Versatile, functional and intuitive
The perfect solution for web developers
All our plans hosting, reseller servers, VPS y scalable servers They are equipped with DirectAdmin. Installatron includes forums, electronic commerce, directories, FAQ, Joomla, PHP-Nuke, Typo, Drupal and many utilities for your website.
list of aplications View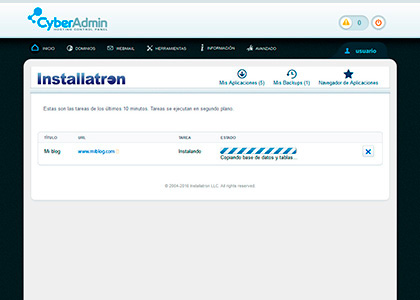 Installation
In less than 5 minutes using simple and intuitive steps I have installed on your hosting account preferred application.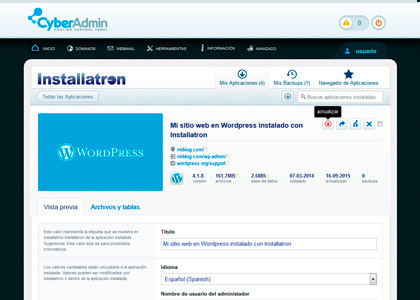 Updates
Installatron all your applications updated automatically, so you will not have to worry about being a day.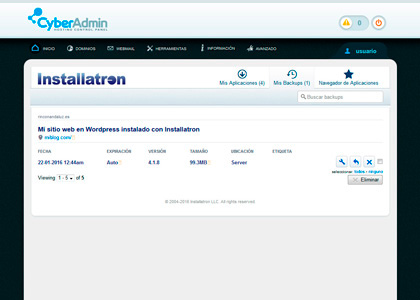 Backups
You can schedule daily, weekly and monthly backups, including system can save backups on Dropbox.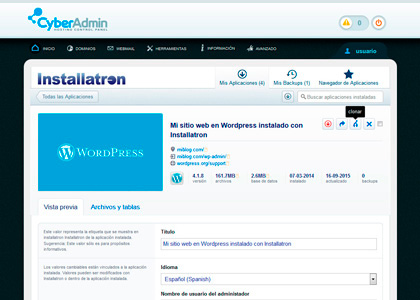 cloning
Once chosen and configured for you system installed, you can duplicate it as many times you need to save time.
communities
Booked
ExtCalendar
WebCalendar
phpFreeChat
phpMyChat
Dada Mail
PHPlist
Site Recommender
phpBB
FluxBB
MyBB
Simple Machines Forum
Vanilla Forums
XMB Forum
YetAnotherForum.NET
Elgg
Oxwall
Pligg
GBook
Lazarus Guestbook
MediaWiki
DokuWiki
PmWiki
WikkaWiki
Pictures and files
ownCloud
Codiad
GQ File Manager
OpenDocMan
Power File Manager
ProyectSend
Pydio
Piwigo
Coppermine
Gallery
Koken
TinyWebGallery
Zenphoto
Content management systems (CMS)
Wordpress
b2evolution
BlogEngine.NET
Dotclear
Geeklog
LifeType
PivotX
Serendipity
Textpattern
Drupal
Joomla
CMS Made Simple
concrete5
Contao
DotNetNuke
e107
GetSimple
ImpressPage
liveSite
Mahara
Mambo
Nucleos CMS
ocPortal
Omeka
PHP-Fusion
PHP-Nuke
phpwcms
PyroCMS
SilverStripe
Soholaunch
Subrion
Tiki Wiki CMS GroupWare
TYPO3
WebsiteBaker
Xoops
Zikula
Chamilo
eFront
Moodle
phpMyFAQ
CakePHP
Code Igniter
Coranto
Laravel
MODx
Nette
Smarty
Symfony
Zend Framework
E-Commerce and Business
Open Classifieds
OSClass
Quicksell Cassifieds
Revive Adserver
Magento
PrestaShop
AbanteCart
CubeCart
OpenCart
osCommerce
TomatoCart
WeBid
Zen Cart
Feng Office
Group Office
SugarCRM
SuiteCRM
Vtiger
Zurmo
Blesta
BoxBilling
ClientExec
phpCOIN
Simple Invoices
WHMCS
Dolibarr
FrontAccounting
Open Real Estate
OrangeHRM
Collabtive
Mantis
PHProjekt
The Bug Genie
Crafty Syntax Live Help
Help Center Live
HESK
Live Helper Chat
osTikect
Surveys and statistics
LimeSurvey
Aardvark Topsites
Advabced Poll
phpESP
Simple Poll
phpMyCounter
Piwik
Seo Panel
Varied
Openbiblio
Search Engine Proyect
Contact Form
Form Tools
phpFormGenerator
webtrees
PHPLinks
SiteBar
Wallabag
YOURLS
iTron Clock
Feed On Feeds
selfoss
Tiny Tiny RSS
WebCards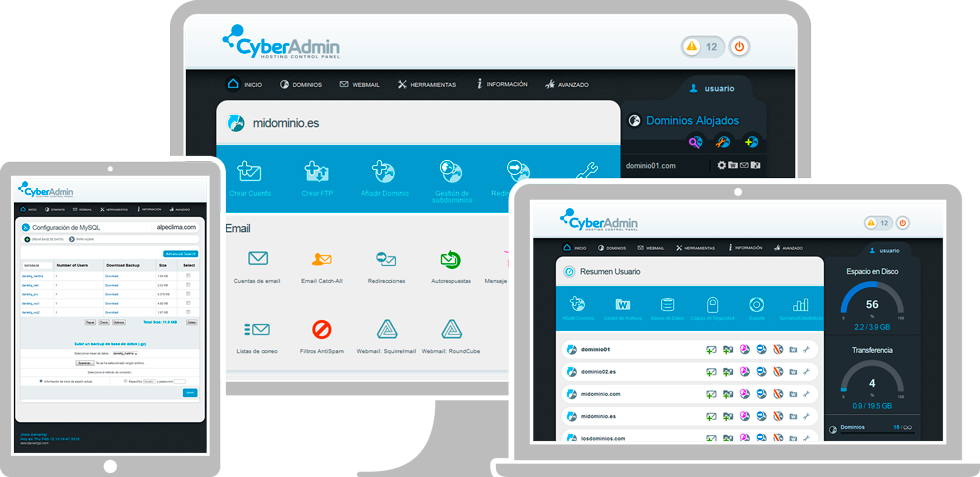 DirectAdmin
Installatron is integrated into the DirectAdmin web control panel, which is included in all our hosting plans, reseller, VPS and scalable servers. It is the control panel most advanced, stable and secure hosting on the market
More information
Demo Online
User: demo_admin
Password: demo
Installatron It is included in the following products: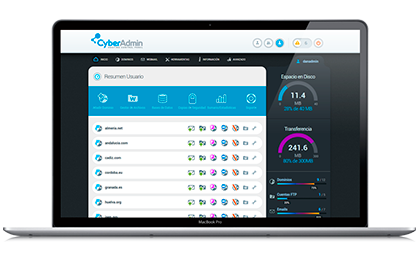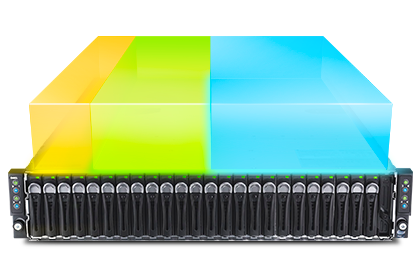 Personal Hosting Plan
2GB Storage
Unlimited hosted domains
Email accounts, FTP and unlimited databases
Medium VPS server
2GB RAM guaranteed
30GB RAID 10 disk space
200GB monthly traffic