Megablock Servers
UNPRECENTED POWER

Dell PowerEdge C6100 1 Complete Node
48GB DDR3 1333Mhz [ Extendable to 96GB ]
Flow 100Mbit Burstable
Unlimited Transfer
2 x HexaCore * AMD Opteron 4180 [ 12 Cores ]
6 x 500GB Nearline SAS Hotswap [ 1.3TB in RAID10 ]
Spanish IP
Cybermóvil PRO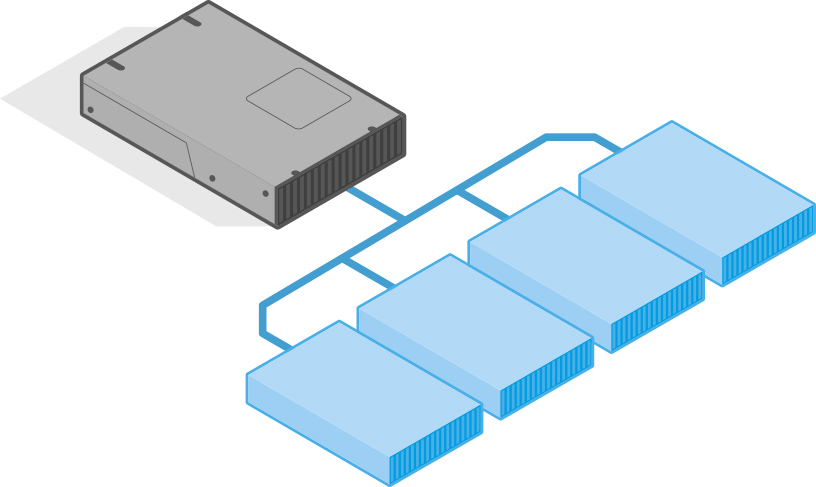 Manage resources
Take advantage of all the resources that a Megablock Server offers you to create powerful private servers or hundreds of hosting accounts.
Extend to a Megablock Servers
Our servers deliver unprecedented performance and power. Thanks to the resources they have, they can host important websites that receive thousands of daily visits and process millions of data and requests.
Contact our Commercial Department for more detailed information
Uses that can be given to your server
-----
Virtualization
SolusVM, Proxmox, Xen, OpenVZ, VMware, KVM, etc ...
With the virtualization option, you can create a Hosting company and offer your clients from hosting accounts to high capacity VPS Servers.
-----
High Capacity Web Servers
If your project requires large amount of memory and CPU.
Thanks to the large amount of memory and CPU, you can host web portals, social networks, large online stores with thousands of visits and transactions.
-----
Critical Data Storage
Databases, backups, etc...
Make it into a virtual safe where you safeguard your company's backups, host large databases, or even create a cloud storage system.
-----
Backup Server
Remote mirror server copy, load balancer, etc...
Because of the great power of a Megablock Server, you can make mirror copies of remote servers, load balancer, etc...
AVAILABLE OPTIONS
Unmanaged, with the operating system of your choice
Administration with DirectAdmin and Installatron CFS. Server maintenance and update
Operating system of your choice
Professional class SSD
Configure your Megablock Server

-----
Dell PowerEdge C610X
Each node is a fully independent blade, with its own processors, memory slots, and hot-swappable disks. These nodes independently have each other two NIC network cards of 1Gbit each.

The only thing shared by the nodes is the chassis and the double power supply, which is redundant for maximum reliability and operability. This saves space and electricity consumption without compromising or sharing the power of each node.
We can say that each of them, is an independent dedicated server with its own resources.