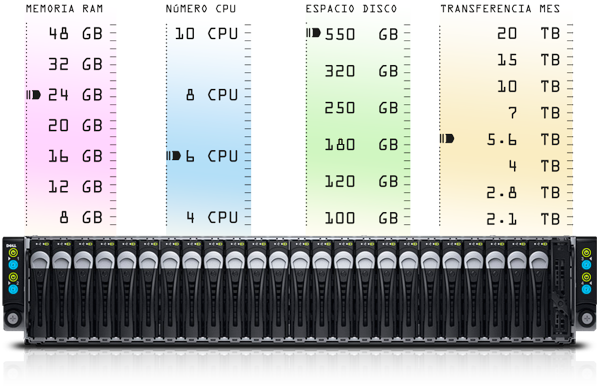 Configure your server
scalable on demand
and forget about limits
Increase or decrease
your resources on demand
according to your needs and
without changing server.
Spanish IPs and
optimal connectivity.
Manage your Scalable server with DirectAdmin,
the advanced control panel for stable and secure hosting.
Maximum Management
Manage all your domains independently in the same hosting account with the multiple tools to control your website.
Each web page will have its own email accounts, databases, backup copies, FTP accounts, redirects and files separated from the others.
Reseller functionality
Get maximum profitability from your server by selling hosting plans to your clients through the white label reseller functionality, showing at all times the logo of your company, create your own hosting plans and configure your resources.
SLA Standard
Cyberneticos is responsible for maintaining and updating its Scalable server. This includes tasks to optimize the operating system, installation of libraries and basic modifications to improve server performance.

You just have to worry about managing your website through a convenient and secure DirectAdmin control panel.
Advanced SLA
If you need more advanced administration of your server that includes other types of interventions or personalized services, do not hesitate to contact our Commercial Department.
Additional functions and features
Detection and prevention
Tools for prevention and detection of Trojans, viruses, malware and other malicious threats.
SpamAssassin
Apache SpamAssassin is an excellent platform that allows you to apply filters and block unwanted bulk mail called SPAM.
CSF+LFD
Comprehensive firewall, flexible and easy to configure which protects the server from possible attacks.
Backup copy
CyberBackup makes backup copies of your Scalable, guaranteeing the continuity of your business.
Data center
We have our own infrastructure in Spain, with a redundant and high-tech data center N + 1.
Migración
We made the migration from cPanel to DirectAdmin, quickly and transparently, respecting structure and information.