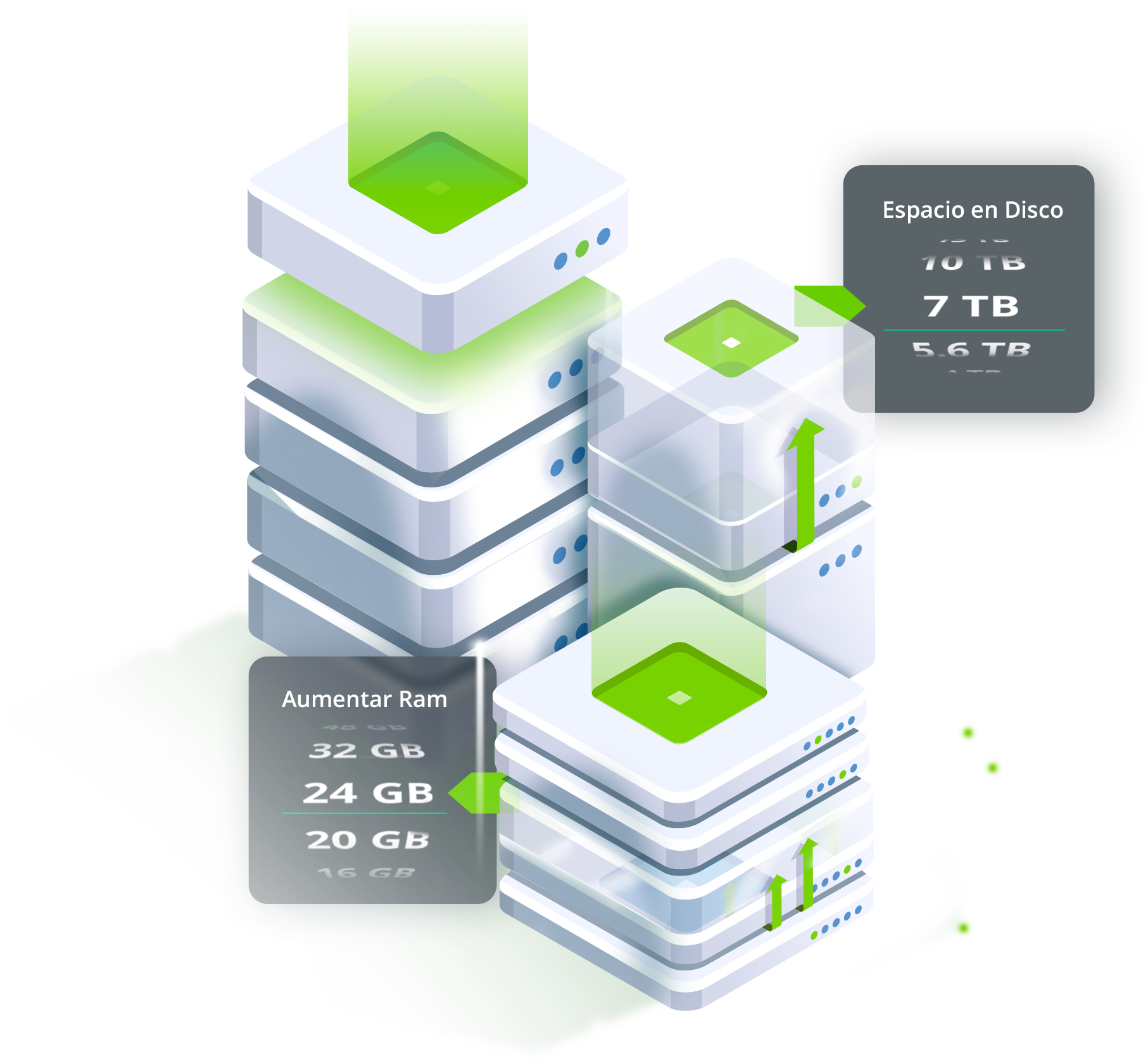 Configure your server scalable on demand and forget about limits
Increase or decrease your resources on demand according to your needs and without changing server. Spanish IPs and optimal connectivity.
CONFIGURE AND ORDER YOUR SCALABLE SERVER
Manage your Scalable server with DirectAdmin,
the advanced control panel for stable and secure hosting.
Maximum Management
Manage all your domains independently in the same hosting account with the multiple tools to control your website.
Each web page will have its own email accounts, databases, backup copies, FTP accounts, redirects and files separated from the others.
Reseller functionality
Get maximum profitability from your server by selling hosting plans to your clients through the white label reseller functionality, showing at all times the logo of your company, create your own hosting plans and configure your resources.
SLA Standard
Cyberneticos is responsible for maintaining and updating its Scalable server. This includes tasks to optimize the operating system, installation of libraries and basic modifications to improve server performance.

You just have to worry about managing your website through a convenient and secure DirectAdmin control panel.
Advanced SLA
If you need more advanced administration of your server that includes other types of interventions or personalized services, do not hesitate to contact our Sales Department.
Additional functions and features
Detection and prevention
Tools for prevention and detection of Trojans, viruses, malware and other malicious threats.
SpamAssassin
Apache SpamAssassin is an excellent platform that allows you to apply filters and block unwanted bulk mail called SPAM.
CSF+LFD
Comprehensive firewall, flexible and easy to configure which protects the server from possible attacks.
Backup copy
CyberBackup makes backup copies of your Scalable, guaranteeing the continuity of your business.
Data center
We have our own infrastructure in Spain, with a redundant and high-tech data center N + 1.
Migrations
We made the migration from cPanel to DirectAdmin, quickly and transparently, respecting structure and information.
FAQ | Frequently Asked Questions
When can I have my server, once the purchase is made?

All servers are delivered in less than 24 working hours from the moment you make the payment. If you need your server urgently, please contact us to mark your order as urgent and we will deliver your server in the shortest time possible without any additional cost.

Do I have ServerControl panel?

You can perform advanced operations such as booting, rebooting and shutting down your server from the integrated ServerControl control panel in your own client area. In addition you can see detailed information of transfer consumption of the current month. ServerControl is included free with all our servers.

Will I have access ROOT (administrator) to my server?

Yes. In case you prefer to manage your machine will supply the ROOT user credentials (Linux) or Administrator (Windows) so that you have complete freedom of administration with your machine. But if you prefer your machine we manage 100% to only have to worry about enjoying your control panel. If at any time he needed some library or module installed on your server, our highly qualified technicians can install it free.

It's a dedicated server?

Yes. Each server has its own dedicated resources guaranteed by Cyberneticos infrastructuree. The server have its own RAM, CPUs and drive space, they're not shared with others servers.

It's a private server?

Yes. Each server has its own secure environment, operating system, IP and totally independent access from other customers or users. This is achieved using the latest technology Xen.
Can I use my Scalable Server for streaming, storage and applications?

Yes. But we recommend order a Streaming Server with which you can create, edit, suspend and delete their own user accounts and broadcasters.

Do i have all the contracted space?

System files typically occupy between 8 - 10GB of the space you have contracted. These system files are required for the operation of your server, control panel and other services.

How far can be extended?

The power of Scalable Servers is that you can start with little resources to fit your needs, and later you can upgrade it to make it as big as you wish. In that case, contact our Sales Departmanent to order the upgrade and you just will pay the difference corresponding to the upgrade.

How do the backups work?

Depending on the backup service you have ordered to complement your server, the frequency of backups varies. Normally backups are performed every 24-48 hours with 5 incremental cycles. You can also choose to make their own copies. To read more about our policy backup, please see the corresponding section in our contract.

Do my server use RAID technology?

Yes. Scalable Servers are configured with the maximum possible redundancy. RAID is a technology that protects us in case of hard disk failure and this is achieved with hardware controllers. This means that even if the drives break down, your server will still working while they're replaced. Disk problems are a thing of the past.
Please, if you still have any doubt
contact our Sales Department.