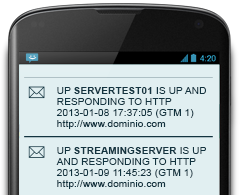 THIS PRODUCT IS NOT AVAILABLE AT THE MOMENT
Plus SMS alerts
Additional service monitoring with email and SMS alerts
If you own a server Cyberneticos, engaging the services of SMS monitoring and receive a notice via email and SMS whenever it is detected that the server is not responding.
How does it work?
We check that your web server is not dropped from seven global locations every 5, 10, 15 or 30 minutes, keeping you informed of any anomaly 24 hours a day, 365 days a year.

If a fault is detected, you notificará instantáneamente emailing and SMS to your mobile device.


It also has other options for receiving alerts that is through your account Jabber, Twitter y RSS.

Since its client area you can view graphs UpTime history and response times (pings) of service.


Screenshots monitoring service
Since 5,00€/mo
contract