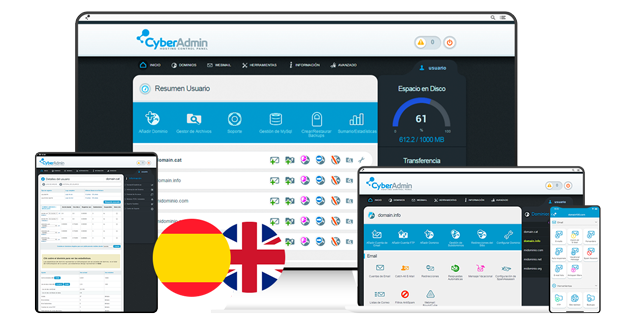 Hosting
unlimited multidomain
professional, powerful and secure hosting
Our hosting plans are unlimited multidomain. It can accommodate all your domains unlimited in the same hosting plan, all without having to hire a hosting for each domain.
Hosting plans with DirectAdmin,
unlimited multi panel domain in Spanish
All plans come with DirectAdmin web control panel, which has many tools
necessary for a webmaster, allowing you to stay in the same account all your web pages and their customers.
Unlimited FTP Accounts
Create an FTP account for each user and / or an FTP account for each domain that is associated with the multidomain plan. The only limit, the space of your hosting account. Since has Unlimited FTP Accounts.
Unlimited Email Accounts
Create all the email accounts you need. The limit will be hired space in your hosting account. You have POP3, IMAP and WebMail. Set up your mail account on any device, or access your mail via RoundCube, the best panel webmail
Unlimited Databases
You can create a database for each domain hosted on your account multidomain hosting. Or have multiple databases to a single domain. There are no limits, because it has to Databases Unlimited hosting plan.
Web Statistics
Using statistics of use and graphics with granular details you will have a complete view about all the activity and consumption of resources of your hosting account.
Más información
Installatron
The plan Hosting Multidomain has Installatron, a system that allows you to install with just a few clicks more than 145 applications such as Wordpress, Prestashop, Forums, Photo galleries, etc.
More information
Hosting Plans unlimited multidomain of Cyberneticos
All hosting plans include:
Hosted domains unlimited
Mail accounts unlimited
Databases unlimited
FTP accounts unlimited
Hosting Multidomain
Staying in your hosting unlimited domains
DirectAdmin Control Panel
Advanced and stable web control panel in Spanish
AWStats Webalizer statistics
Real-time statistics of your website
POP3, IMAP and Webmail
Email mail accounts unlimited
Installatron
More than 145 free apps: Wordpress, Prestashop, etc.
Hosting SSD+ INFO
Our servers are equipped with SSD drives.
AntiSpam and Firewall
Configure Anti Spam rules and Firewall
PHP, Apache and MySQL included
The latest stable versions for your web projects
Tech Support 24 hours
Our technicians will resolve their issues
Cybermóvil PRO app
Essential application for customers Cyberneticos
Satisfaction guarantee 15 days
Try our products for 15 days
IP Spanish
Our own data center is in Spain
FREE domain registration the first year
For the annual hiring plan Hosting
(.es - .com - .net - .org - .info)
SSD Disks
Our hosting servers are
equipped with SSD Disks
Hosting plans offer optimal performance thanks to our hosting servers that have SSD technology. Allowing in a fraction of time consultations to databases of online stores, CMS as wordpress, forums, etc.
More information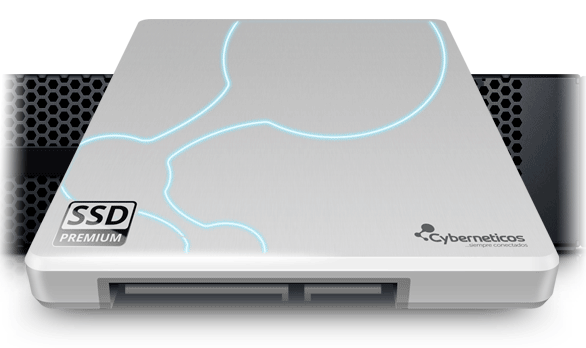 Manage your Hosting with DirectAdmin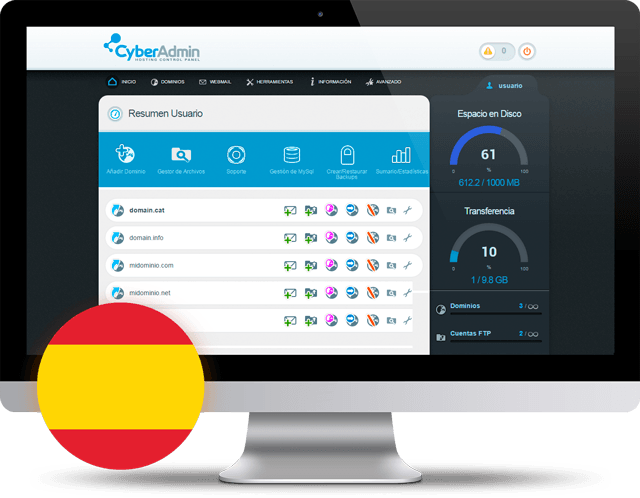 Demo Online User
Usuario: demo_user
Password: demo
DirectAdmin
Control Panel Multi Domain Hosting
DirectAdmin is the Control Panel insurance market Multi Domain Hosting more Advanced and stable. Manage all your domains independently on the same hosting account with multiple tools to control your website. Each site will have its own Mail accounts, Databases, backup, FTP accounts, redirections and separated from other files.
More information
Easily manage your control panel
Within your hosting control panel you will find all the tools you may need a Professional webmaster to control the most of your website (redirections, email accounts, ftp, Databases, files, statistics). These tasks are managed comfortably with the Skin CyberAdmin, which is fully developed by the team Cyberneticos, providing a flow of intuitive and organized.
Functions and Features
Additional plan for Hosting
WebMail
All our Multi Domain Hosting plans offer mail settings POP3, IMAP and Webmail.
PHP
We always use the latest stable version of PHP. So we accelerated the proper functioning of all scripts or programs you install on your own.
Apache
This is the latest version of Apache. All our servers carry the latest stable version of Apache 2 for maximum safety.
MySQL
The Databases are the latest stable version. We have several modules installed by default, but if you need special one we can install it.
AntiSpam
You can set your own rules AntiSpam. All hosting servers also combat spam with RBL lists in real time.
Firewall
All hosting plans and bring a default installed and enabled firewalls. If you need any special configuration, simply pedírnosla.
FAQ | Preguntas Frecuentes de Hosting Multidomain
When I can have my hosting plan?

Your Hosting plan will be available after payment, instantly receive an email with the access data to your DirectAdmin Control Panel.

Do I have to Order Hosting plan for each domain?

You can host all their domains in the same hosting plan without a plan Order for each domain.

How many domains can be hosted on my hosting account?

It could accommodate all domains need, as Cyberneticos hosting plans are unlimited multidomain.

How many email accounts can I create?

You can create as many email accounts as you need Email in all domains that have hosted on your hosting plan, the limit will be in the contracted space.

Can I access my email from the browser?

Yes, you can access your email from any device with an Internet connection via the browser and WebMail system.

Free domain registration by annual contract

At the time of hiring a Multidomain Hosting plan, the registration of a domain is free for the first year (.es - .com - .net - .org - .info). Renewals and transfers are excluded from this promotion.
What if all the occupied disk space in my hosting plan?

In the case That the disk space in your hosting account is complete, you will Have to make a release of space or Order to higher plan. This change of plan is instant, Just have to make the extension from the customer area.

Do Installatron applications are free?

Yes, you have more than 145 free applications ready to use. In less than 5 minutes you can have installed on your hosting plan from Wordpress, Prestashop, Drupal, Magento, Joomla, etc. Nor will limit installations and can install as many web applications as you need for your project.

¿Have the total contracted myspace?

If, when hosting plans, you will have all the space hired his plan.

How backups work?

You can make backups of your hosting plan manually from your DirectAdmin Control Panel. If you have installed an application from Installatron, you can configure from the copies of your website automatically. Or you can Order CyberBackup Pro Hosting, which automatically and unused disk space in your hosting plan, will perform full backups of your hosting account..

Can I install let's encrypt on my hosting server?

Yes, all shared hostings are prepared to support let's encrypt.
Please, if you still have any doubt
contact our Sales Department.